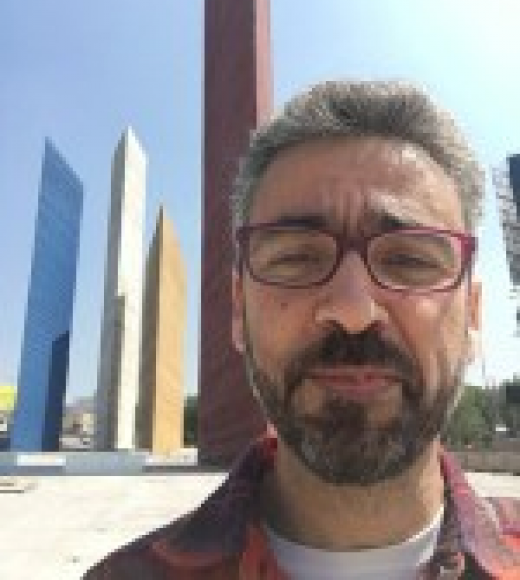 Position Title

Associate Professor of Anthropology
Bio
Education and Degree(s)
Ph.D., Anthropology, UC Berkeley, 2007
Profile
My work is based on intensive participant observation in contemporary art and curatorial worlds. It is a contribution to aesthetic anthropology, the anthropology of contemporary arts, and the anthropology of the contemporary image.  Until now I have been conducting fieldwork in Mexico City where I was attentive to the image-work and writings of media artists, as well as to the concept-work of curators who care about them. I've particularly engaged those artists and curators whose inquiries provocatively signaled an ongoing breakdown of cultural forms and historical figurations of the New Man in Mexico (eg. mestizaje, mexicanidad, cosmopolitan-nationalist modes of existence).  The outcome of this first fieldwork experience and experiment is a book length study titled The Incurable-Image: Curating Post-Mexican Film & Media Arts (Edinburgh University Press, February 2016).
I've collaborated on various public programs around the legacy of avant-garde and experimental media. Rather than illustrations of fieldwork, these public programs are the outcome of what I call participant-observation based  "curatorial designs".  I also direct AIL: the Anthropology of the Image Lab in Young Hall 226,  a space for conversations with interlocutors in adjacent disciplines committed to fostering fieldwork-led modes of inquiries through images. 
Research Interests
My new book is composed of several scenes based on multi-sited fieldwork and encounters with the overlapping worlds of seven artists. These include Silvia Gruner, Mathias Goeritz, Raul Ruiz, Anna Maria Maiolino, Adrian Piper, Michelangelo Antonioni, and Mounir Fatmi.  Following their image-work, aesthetic struggles, and ethical demands led me to what I call a zone of "cogitation," a term I reanimate and reconfigure from the 12th century Andalusian thinker Ibn Rushd (Latin. Averroes). 
Selected Publications
Elhaik, T. (2016) The Incurable-Image:Curating Post-Mexican Film & Media Arts , Edinburgh University Press.
Elhaik, T. What is Contemporary Anthropology? (2013) in Critical Arts: Journal of Media & Culture Studies vol. 27.6. London: Routledge: 784-798.
Elhaik, T. (2014) A Bloc of Sensation in Lieu of Geography, in Sweet Sixties: Specters and Spirits of a Parallel Avant-garde. Georg Schöllhammer & Ruben Arevshatyan (Eds.) Sternberg Press (2014): 217-228.
Elhaik, T. & Marcus, G. (2010) Curatorial designs in the poetics and politics of ethnography today: A conversation, in Beyond Ethnographic Writing, Ana María Forero Angel and Luca Simeone (Eds.), Armando Publishers.
Teaching Experience
ANT191: Media Anthropology
ANT210: Anthropology of the Image
ANT201: Graduate Pro-Seminar
ANT136: Ethnographic Cinema
Awards
Tarek Elhaik is part of a collaborative team of researchers, hosted by the Los Angeles Film Forum and funded by the Getty Foundation, currently editing and curating an anthology and several platforms on experimental cinema and media in Latin America.