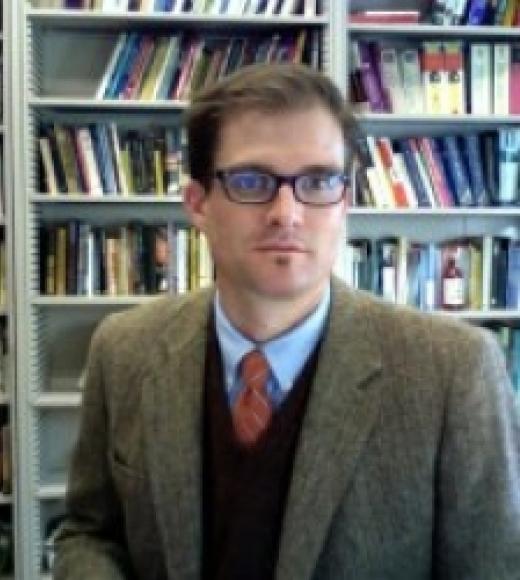 Position Title

Associate Professor of English
Bio
Education and Degree(s)
PhD University of Wisconsin-Madison
M.A. University of Wisconsin-Madison
B.A. Pitzer College
Profile
My work focuses on intersections between aesthetics and politics in the long stretch of literary modernism. I'm currently working on a book manuscript titled "Uncommon Sense: Dictatorship and the Political Imagination of Anglo-American Fiction," which examines imaginative representations of American and British dictators unexpectedly arising from the ashes of supposedly healthy democracies. Drawing upon a variety of twentieth-century literary, filmic, philosophical, and other cultural materials representing the specter of dictatorships arising from within more-or-less democratic societies, part of my project is to show how the definitional opposition of "democracy" and "dictatorship" came to be both vexed and framed as a function of a crumbling capacity for judgment and common sense. Related interests include irony, satire, literary and visual cultures of the 1930s, the politics of photography, propaganda, and image-texts.
I'm actively involved with the First-Generation Initiative and I'm always happy to work with students on individual research via the MURALS (Mentorships for Undergraduate Research in Agriculture, Letters, and Science) project. I received the UC Davis Distinguished Teaching Award for Undergraduate Teaching 2016-17.
Selected Publications
The Politics of Irony in American Modernism. New York: Fordham University Press, 2014
Honorable Mention, 2015 Modernist Studies Association Book Prize
"Readers who like their scholarship to be ecumenical in its sourcing and counterintuitive in its findings will find much to admire in The Politics of Irony in American Modernism." - T. Austin Graham, American Literary History Online Review
"The Politics of Irony in American Modernism is a remarkable work of scholarship, wedding theoretical acuity with bold and lively readings across an impressive range of contexts. He not only offers us a bold new frame for reading modernism; he makes modernism itself richly new as an object of study. This work will shape conversations among scholars of modernism and its discontents for many years to come." —Sara Blair, University of Michigan
"An important and deeply insightful book. Moving past familiar debates on the politics of irony, Stratton argues for an understanding of modernist irony as an aesthetic practice that not only sharply reorients political perception, but also promotes dispositions and habits of analysis that are indispensable to political thought and action." —Amanda Anderson, Brown University
"Aesthetics and Politics in the Depression Era." The Cambridge Companion to American Literature of the 1930s. Cambridge: Cambridge UP, 2018. 36-54.
"Form, Norm, and Gender in the 1920s: Dorothy Parker and Anita Loos." Options for Teaching British and American Satire. Ed. Evan Davis and Nicholas D. Nace. New York: MLA (forthcoming). 
"Modernism." Handbook of the American Novel of the Twentieth and Twenty-First Centuries. Ed. Timo  Müller. Berlin: De Gruyter, 2017. 
"Benjamin De Casseres." Routledge Encyclopedia of Modernism. Ed. Stephen Ross. London: Routledge,  2017. 
"Rap Sheet of Capitol Crimes: Music, Murder, and Aesthetic States of Terror." Demands of the Dead: Executions in U.S. Literature. Ed. Kathleen Ryan. Iowa City, IA: U of Iowa P, 2012. 273-294.
"Nietzsche in Greenwich Village: Visions of Politics, Aesthetics and Irony in the 1910s." Arizona Quarterly 65:2 (Summer 2009): 57-82.
"Start Spreading the News: Irony, Public Opinion, and the Aesthetic Politics of U.S.A." Twentieth Century Literature 54.4 (Winter 2008): 1-28.