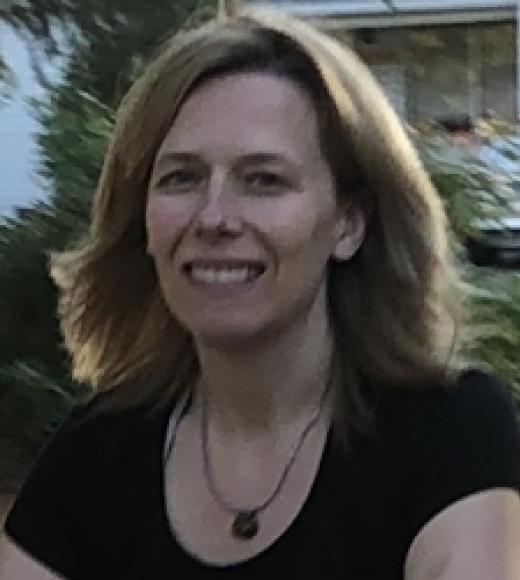 Office Hours
Tuesday 3-4, Thursday 10-11

Bio
Education and Degree(s)
PhD., University of Wisconsin - Madison, 2003
M.A., University of Wisconsin - Madison, 1997
B.A., Marquette University, 1996
Profile
Elizabeth Carolyn Miller joined the UC Davis English department in 2008 and served as Department Chair from 2013-2016. Before coming to Davis, she taught at Ohio University, the University of Michigan, and the University of Oklahoma. Her scholarly interests include nineteenth- and early-twentieth-century British literature and culture, ecocriticism and environmental studies, gender studies, media studies, and radical politics. She published Slow Print: Literary Radicalism and Late Victorian Print Culture with Stanford University Press in 2013, and Framed: The New Woman Criminal in British Culture at the Fin de Siècle with University of Michigan Press in 2008. Her current book project is focused on ecology and capital and is titled "Extraction Ecologies and the Literature of the Long Exhaustion, 1830s-1930s."
Currently Teaching
Current Research 
"Extraction Ecologies and the Literature of the Long Exhaustion, 1830s-1930s" (monograph in progress)
"Teaching William Morris" (co-editor, edited collection under contract, due out 2018)
George Bernard Shaw, Major Political Writings (editor, under contract with Oxford World Classics, due out January 2021)
Publication Spotlight
Slow Print: Literary Radicalism and Late Victorian Print Culture.
Palo Alto, CA: Stanford University Press, 2013.
 
by Elizabeth Carolyn Miller
Winner of Best Book of the Year for 2013, North American Victorian Studies Association (NAVSA)
Honorable Mention for the 2014 Modernist Studies Association Book Prize
"Slow Print builds carefully on several generations of scholarship in the field—but pushes the scholarly conversation forward in important and new directions through its archival findings and synthetic analysis. This is a sit-up-and-take-notice, must-read book in Victorian and modernist studies."—Ann Ardis, University of Delaware
 "Miller's own reading, while careful, must have been anything but slow: she commands a dauntingly deep reservoir of sources, and her argument overflows with incisive analyses." -- Review by Leah Price, Times Literary Supplement (24 May 2013)
"Slow print is a brilliant phrase on Miller's part, drawing together as it does not only a new sense of urgency in response to accelerated capitalist production at the end of the nineteenth century but also our own period's response to the heightened acceleration wrought by new digital technologies and captured, for us, in antidotes like the "slow food" movement and "slow living".... In a single term Miller collapses two periods and helps us to understand both better." -- Review by Barbara Leckie, Victorian Literature and Culture (August 2015)
"[A] beautifully written, richly detailed and impressively learned book." -- Review by Ruth Kinna, The Journal of William Morris Studies (Summer 2015)
 "As the circulation of words and ... images speeded up, significant and influential figures on the left proposed putting the brakes on. It is a wonderfully suggestive way of understanding many transformations of [the] print-mediated public realm." -- Review by John Plotz, Nineteenth Century Literature (September 2013)
"Miller's archive of texts is fascinating and provocative as well as fresh." -- Review in Novel, by Michael Scrivener (May 2015)
Framed: The New Woman Criminal in British Culture at the Fin de Siècle. Ann Arbor: University of Michigan Press, 2008.
by Elizabeth Carolyn Miller
"remarkable for its wide-ranging scholarship and the breadth of its author's thinking. Miller has produced a valuable, highly readable study that will change the way we think about the New Woman and her political and social agency." -- Review by Grace Moore, Nineteenth Century Literature (December 2009): 426-29.
"Framed is a book that is remarkable for its steady erudition, its calm authority, and its consistent maintenance of a very high standard indeed for itself. There is not a wasted word or a subpar argument. This is a meticulous and intelligent treatment of what makes modernity." -- Review by Talia Schaffer,Romanticism and Victorianism on the Net (November 2009).
"a refreshing, wide-ranging look at a complex figure emerging in the Victorian twilight." -- Review by Caroline Reitz, Victorian Studies (Winter 2010): 310-12.
Selected Publications
Books:
Selected Articles:
"Drill Baby Drill: Extraction Ecologies, Open Temporalities, and Reproductive Futurity in the Provincial Realist Novel." Forthcoming in special issue of Victorian Literature and Culture on "Open Ecologies" (2018). 30 t.s. pp.
"Fixed Capital and the Flow: Water Power and The Mill on the Floss." Forthcoming in Ecological Form: System and Aesthetics in the Age of Empire. Eds. Nathan Hensley and Philip Steer. Fordham UP, 2018. Pp. 85-100.
"William Morris and the Literature and Socialism of the Commonweal." Forthcoming in Routledge Companion to William Morris. Ed. Florence Boos. London: Routledge, 2018. 33 t.s. pp.
"A Column of Our Own: Women's Columns in Socialist Newspapers." Forthcoming in Women, Periodicals, and Print Culture in Britain, 1890s­-1920s: the Modernist Period. Eds. Carey Snyder and Faith Binckes. Edinburgh: Edinburgh UP, 2017. 22 t.s. pp.
"Class and Social Status." Forthcoming in A Cultural History of Hair in the Age of Empire, 1800-1920. Ed. Sarah Heaton. London: Bloomsbury Press, 2018.
"Ecology." Special Keywords issue of Victorian Literature and Culture 46.3-4 (Fall/Winter 2018): 653-56.
"William Morris and the Form and Politics of Replication." In Nineteenth Century Replication and Its Digital Legacy. Eds. Linda Hughes and Julie Codell. Edinburgh UP, 2018. 144-61.
"Reading in Review: The Victorian Book Review in the New Media Moment."Victorian Periodicals Review 49.4 (Winter 2016): 626-42. Special issue on "Moments of Challenge and Change."
"Dendrography and Ecological Realism." Victorian Studies 58.4 (Summer 2016): 696-718.
"Liberation Ecologies, 1871." Contribution to a symposium-in-print on Kristin Ross's Communal Luxury: The Political Imaginary of the Paris Commune (Verso, 2015). The Journal of William Morris Studies 21.4 (Summer 2016): 8-16.
"Sex and Socialism." Review essay. Public Books, 1 September 2016, http://www.publicbooks.org/multigenre/sex-and-socialism
"William Morris, Extraction Capitalism, and the Aesthetics of Surface." Victorian Studies. 57.3 (Spring 2015): 395-404.
"Journalism." Bernard Shaw in Context. Ed. Brad Kent. Cambridge: Cambridge University Press, 2015. 127-34.
"Twilight of the Idylls: Wilde, Tennyson, and Fin de Siècle Anti-Idealism."Victorian Literature and Culture 43.1 (March 2015): 115-30.
"Reconsidering Vera; Or, the Nihilists." Wilde Discoveries: Traditions, Histories, Archives. Ed. Joseph Bristow. Toronto: University of Toronto Press, 2013. 65-84.
"Exile London: Immigration, Xenophobia, and Anarchism in Late-Victorian Literature." Fear, Loathing, and Victorian Xenophobia. Ed. Maria Bachman, Heidi Kaufman, and Marlene Tromp. Columbus: Ohio State University Press, 2013. 267-83.
"Tom Maguire: 'An Under-Paid Agitator' in the Late-Victorian Socialist Press."Philological Quarterly 91.1 (Winter 2012): 75-96.
"Sustainable Socialism: William Morris on Waste." Journal of Modern Craft  4.1 (March 2011): 7-25.

"Literature and the Late-Victorian Radical Press." Literature Compass 7.8 (August 2010): 702-12.
Selected Awards
Visiting Fellowship, Clare Hall, Cambridge University, March - August 2017.
Best Book of the Year for 2013, awarded to Slow Print: Literary Radicalism and Late Victorian Print Culture by the North American Victorian Studies Association.
Honorable mention for the 2014 Modernist Studies Association Book Prize, for Slow Print.
Chancellor's Fellow, University of California, Davis, 2013-2014
Charles A. Ryskamp Research Fellowship, American Council of Learned Societies (ACLS), 2009-2010
Curran Fellowship, Research Society for Victorian Periodicals, 2008
Joseph R. Dunlap Memorial Fellowship, William Morris Society in the United States, 2007
Public Goods Council Mellon Junior Fellowship, University of Michigan, 2004-2006